Hundreds of hours, thousands of stitches, miles of yarn, dozens of ends I didn't weave in.
Five human heads.
This is the story (read: heavily captioned scrapbook) of my Senior thesis as an art student, a crochet accomplishment achieved waaaay back in the spring of 2018. It was the culmination of eight years wondering if I could do with amigurumi what Michelangelo had done with marble (well, to a degree, obviously). Could I use crochet to sculpt an anatomically acceptable, if not accurate, human face?
The question started back in 2010 when I completed a few two-foot figures based on characters from the BBC. They were highly caricaturized in detail and proportion to accommodate the medium and their scale: they have wide, fish-stare eyes and no mouths on their faces; big heads on skinny necks; large hands to allow for individual fingers. Still, their faces have shape— they have brows, noses, cheekbones, and chins.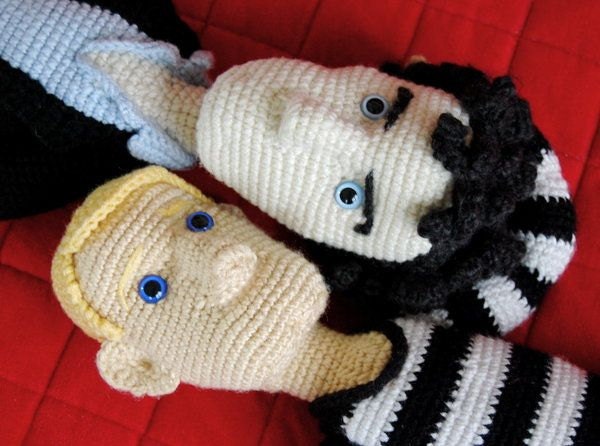 So… If I could do this, could I recreate the whole structure of a human face? 
This remained a potential for crochet experimentation that I would be too chicken to further explore— until I was standing in one of the galleries on my college campus, with an opening reception looming on the horizon and finally, the perfect arena in which to give this idea some legs. 
Er… heads. 
Materials: 
Worsted weight yarn held double
2 10lb boxes of polyester fiberfill
Tapestry needle
Scissors 
Temporary recession of sanity
Timeframe: Three months before opening reception
Method: Freeform crochet
The Process
As I had for my little caricature guys, I started with the top of the head and worked down. The facial features I established using common crochet shaping techniques – increases and decreases in single crochet. Once stuffed, the separate ears and eyelids would be sewn on, otherwise, the entire head was worked in one continuous spiral as I do with my most of my amigurumi. 
For my first attempt, I ended up using a styrofoam hat-display head as reference for proportions (probably not the most accurate model, but this was a learning process).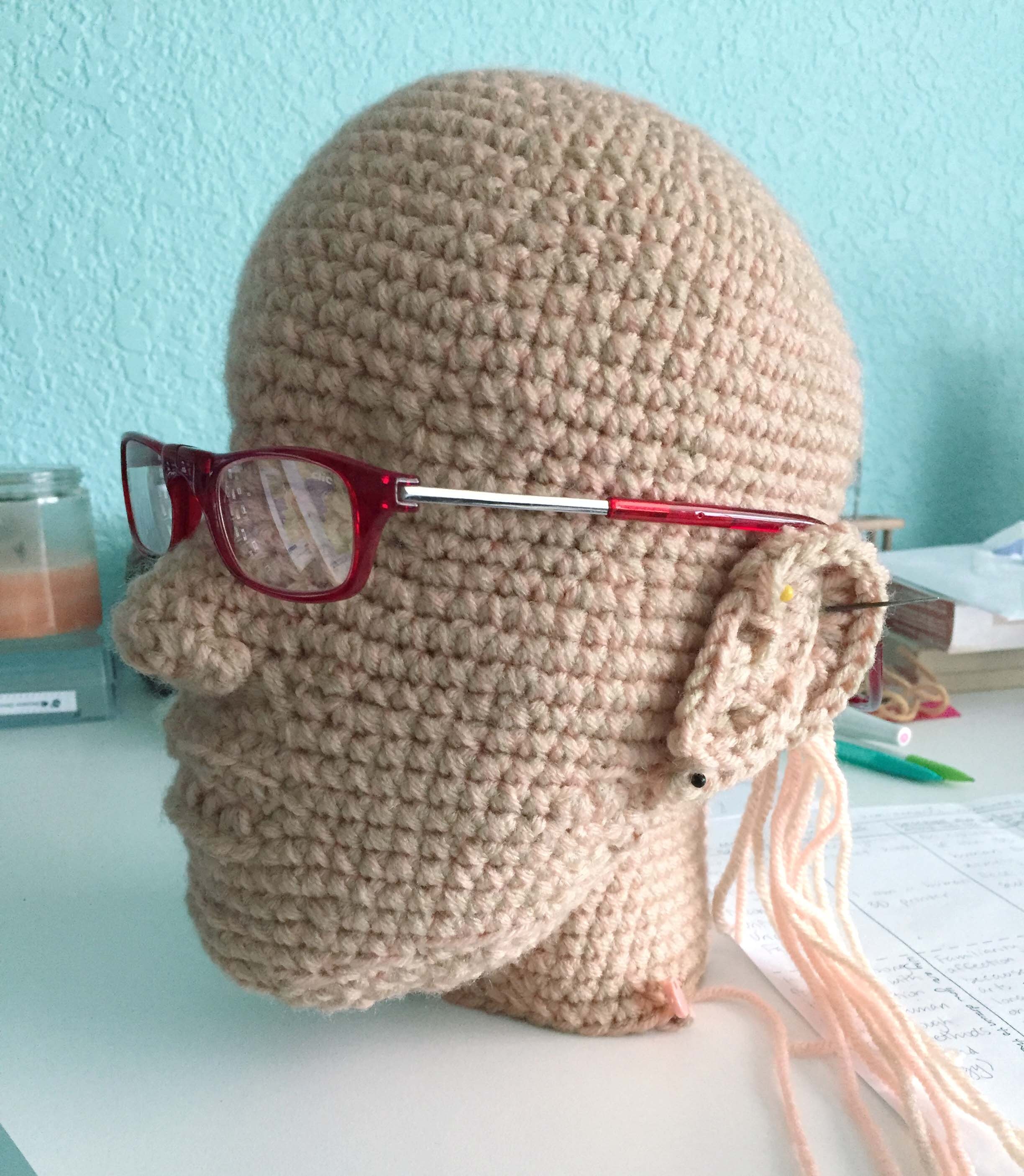 Here he is still in progress, stuffed and wearing my dad's readers as I figured out where to attach the ears (◠ ◡ ◠)
Hang on, let's take a moment to admire those ears, though...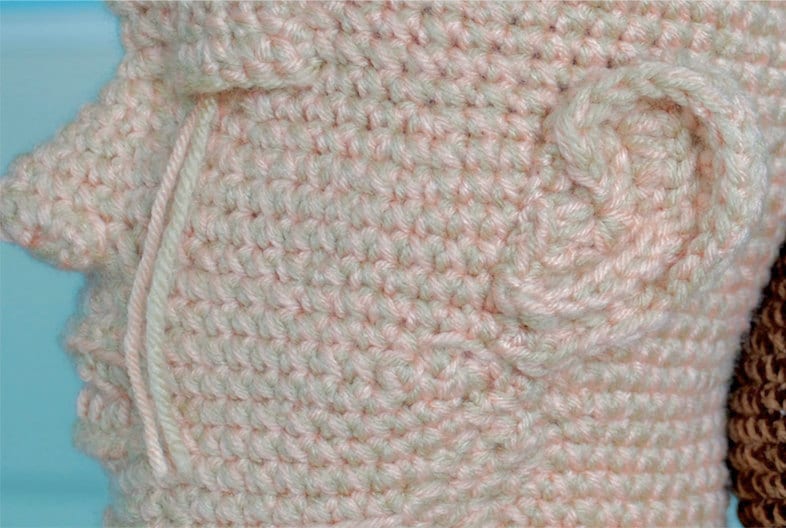 Wow  ∠( ᐛ 」∠)_
With my first attempt looking good and boosting my confidence that I'd actually be able to do this, I loaded my hook with new colors and got to work on head number 2, ready to fix proportional errors in the hopes that I'd get closer to anatomical accuracy.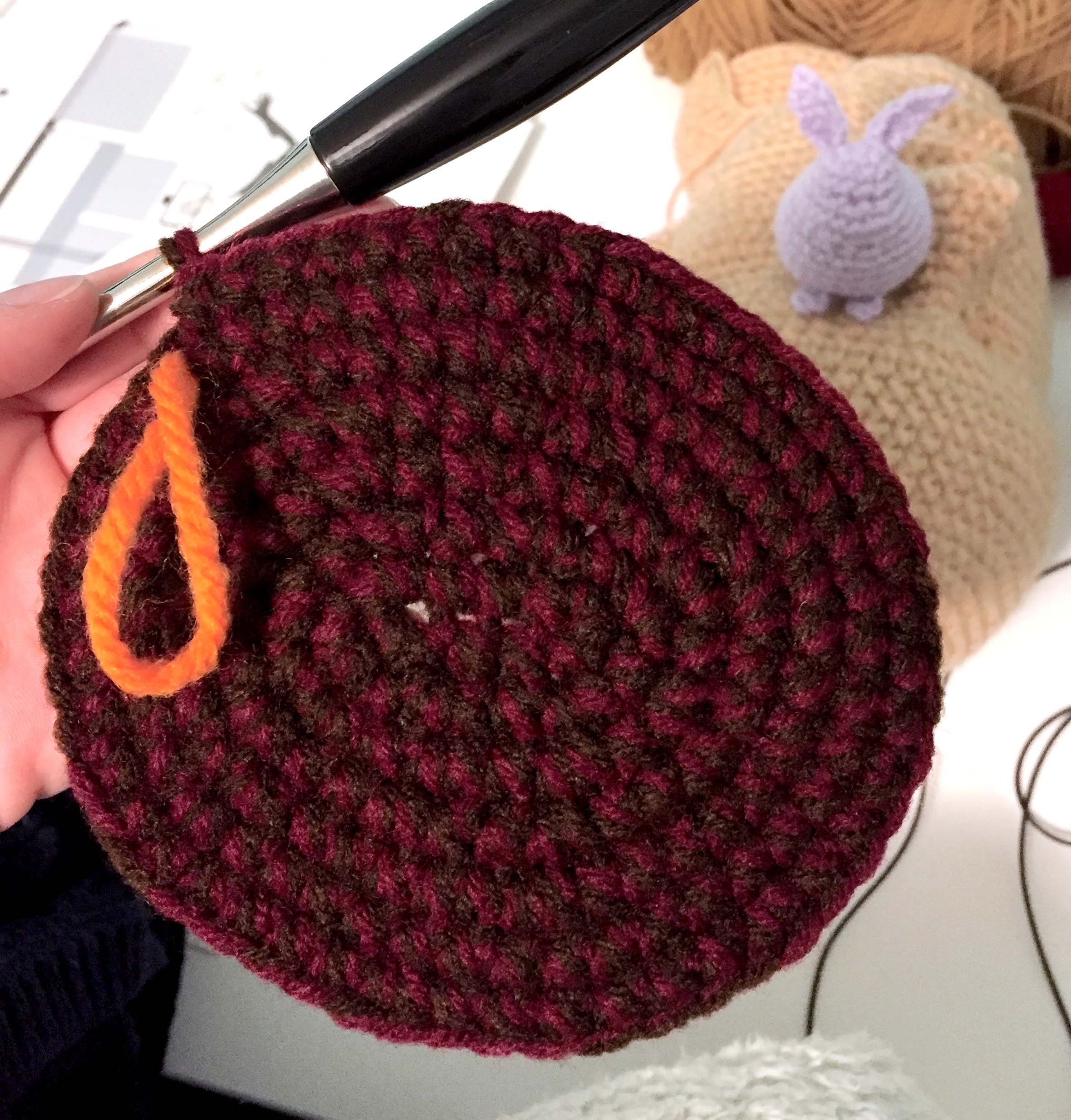 Right out of the starting gates ...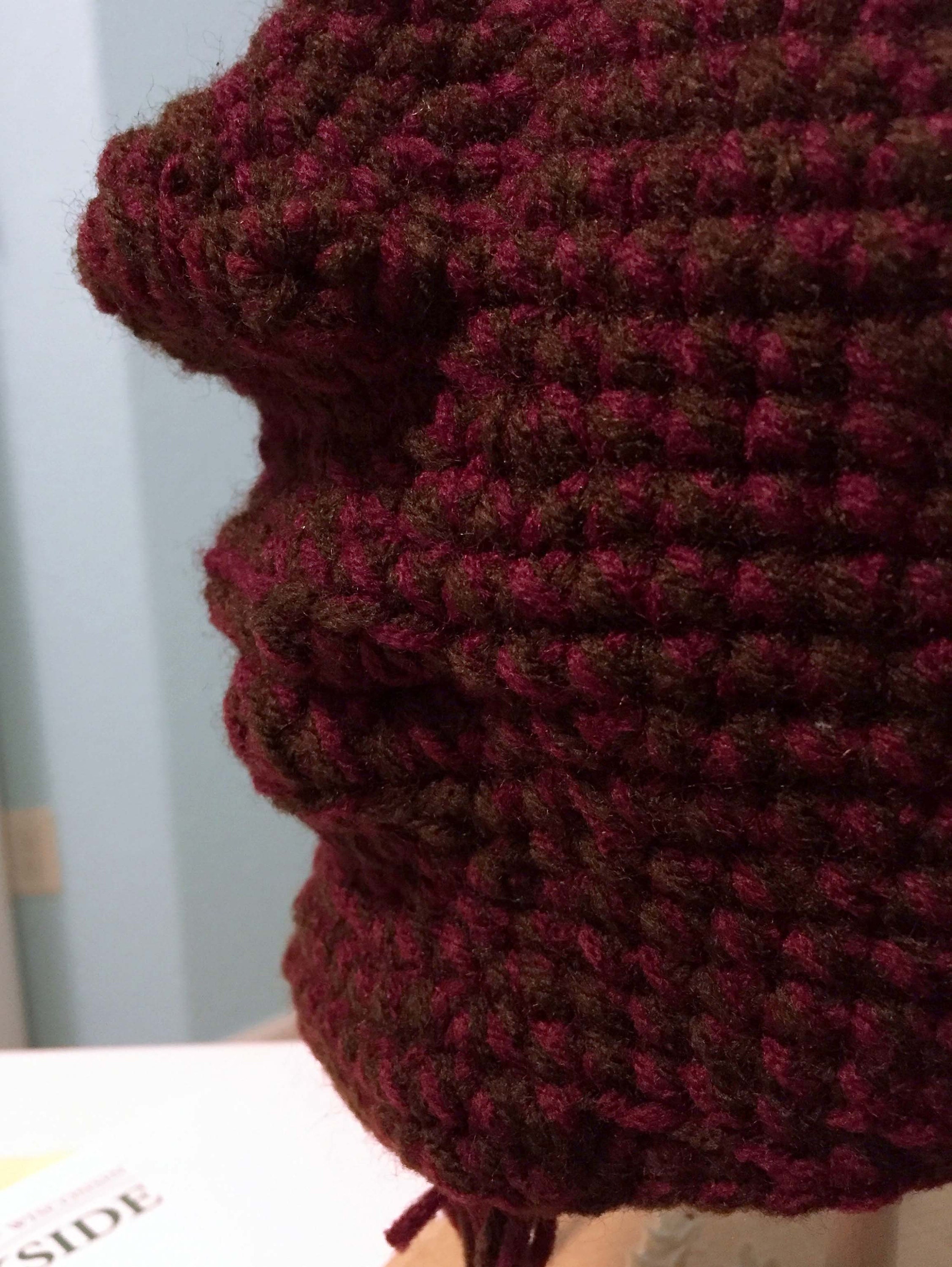 Nearing the finish line ...
Through the process of building these soft sculptures, I tried to do as little frogging as possible and just let the heads take shape as they would. Because of this, something might start to go terrifically belly-up (as this head would prove when it came to the jaw-to-neck transition), and instead of losing precious time fretting and worrying how I was going to problem-solve, I would start on the next head. Remember, I was on a pretty tight deadline. 
And so it went.
Head #3 as a pancake.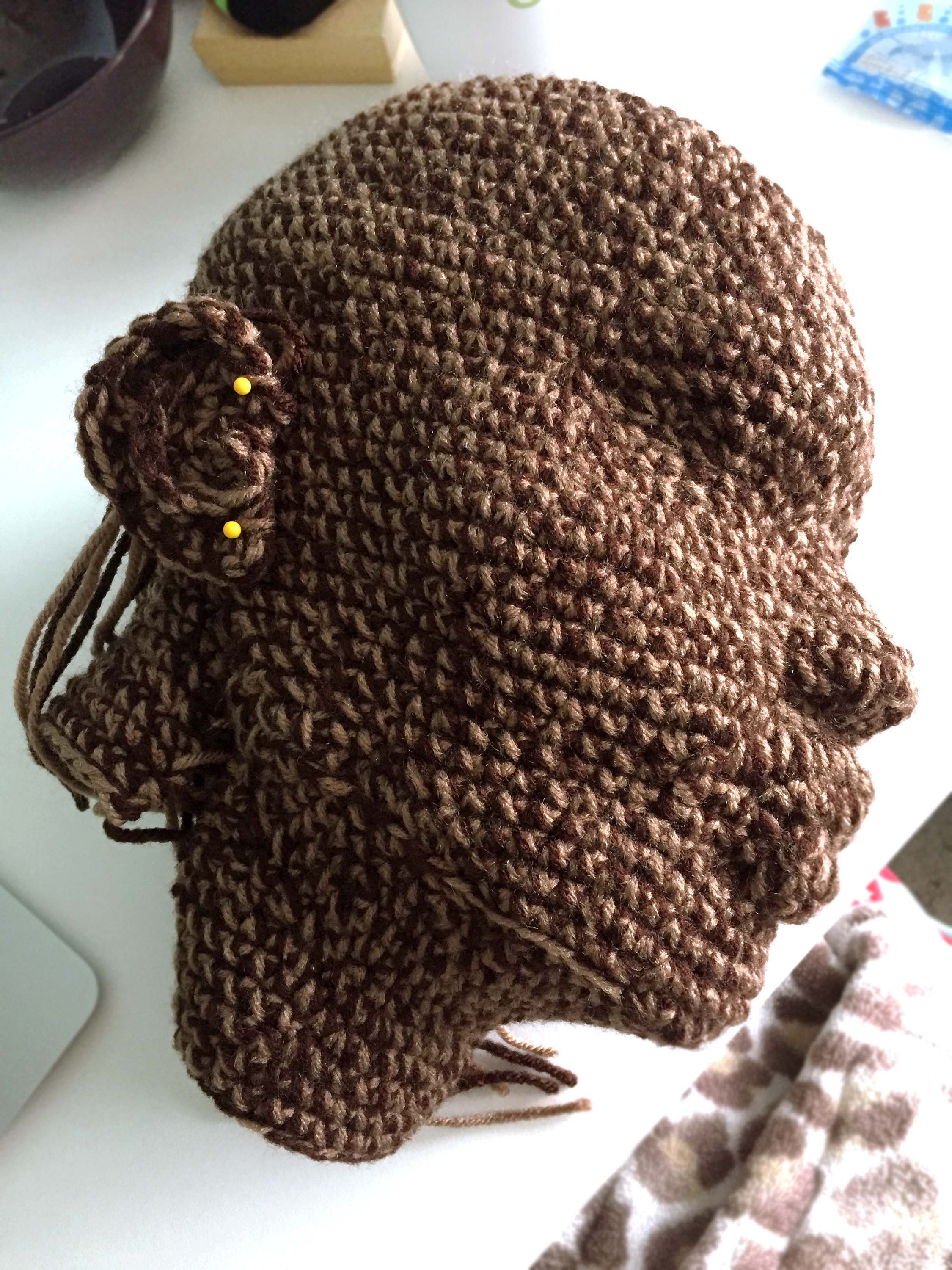 Head #4 and her adorable ears.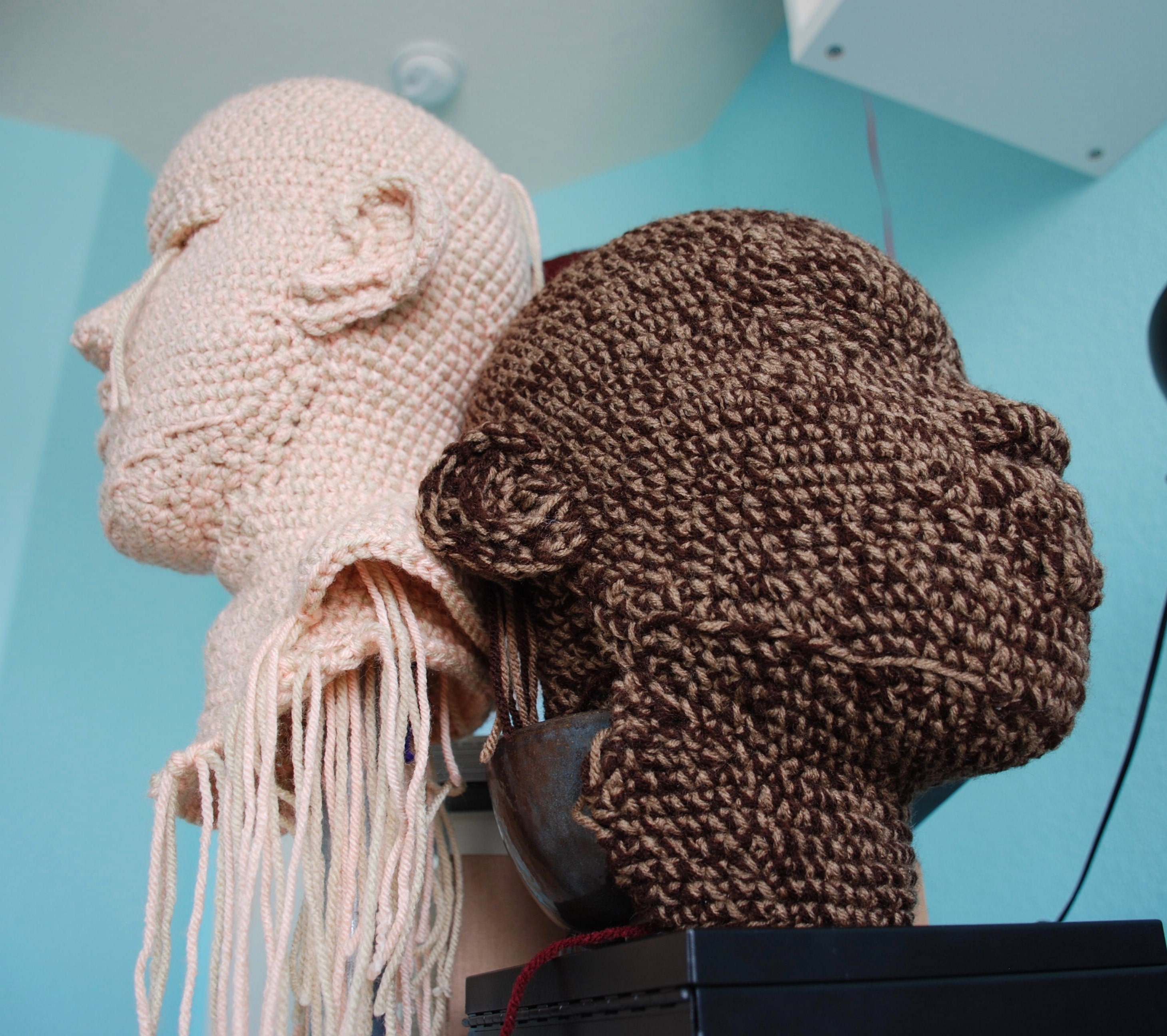 Head #4 chillin with the finished Head #1.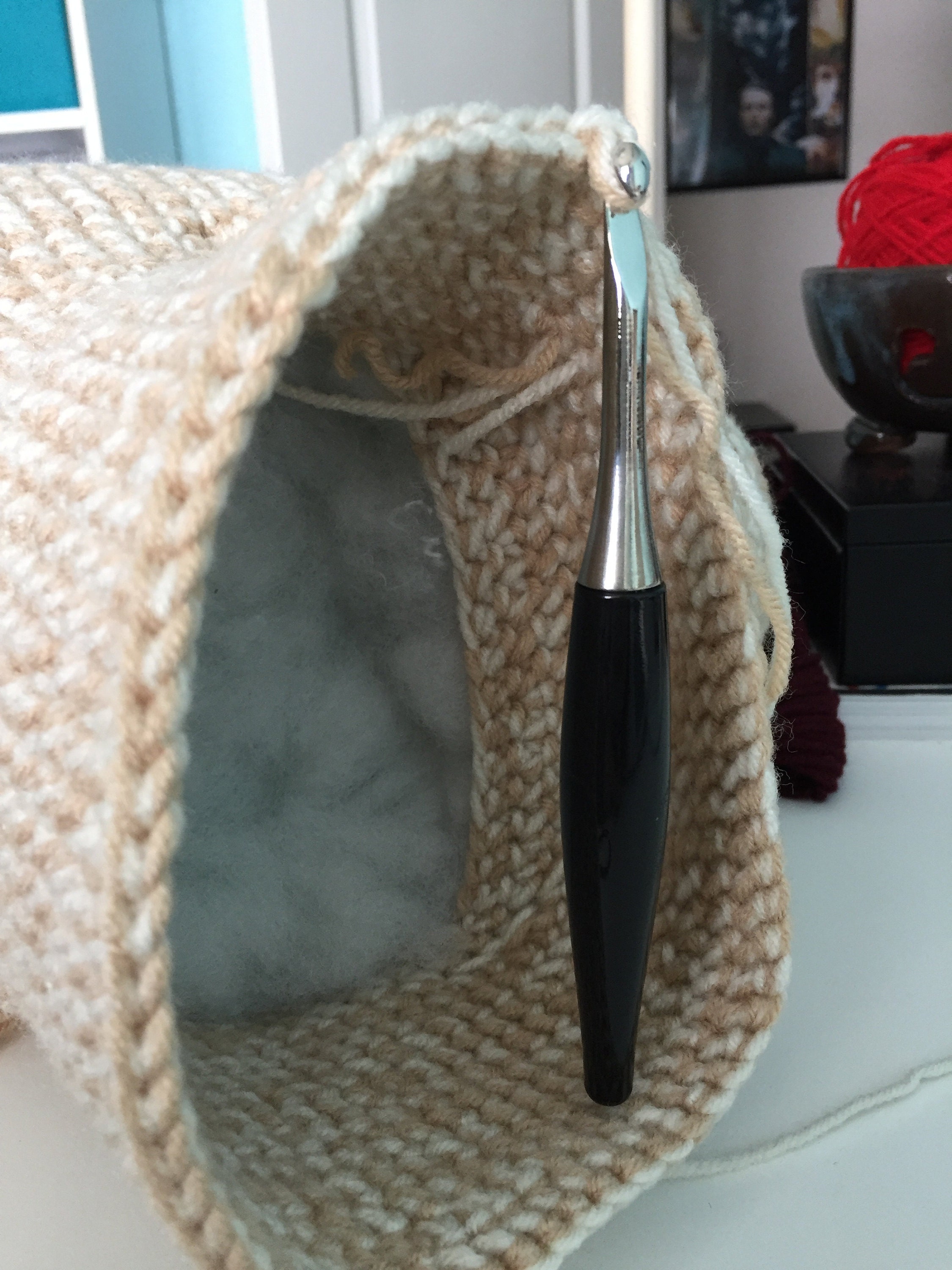 Head #5 stuffed with fluffies!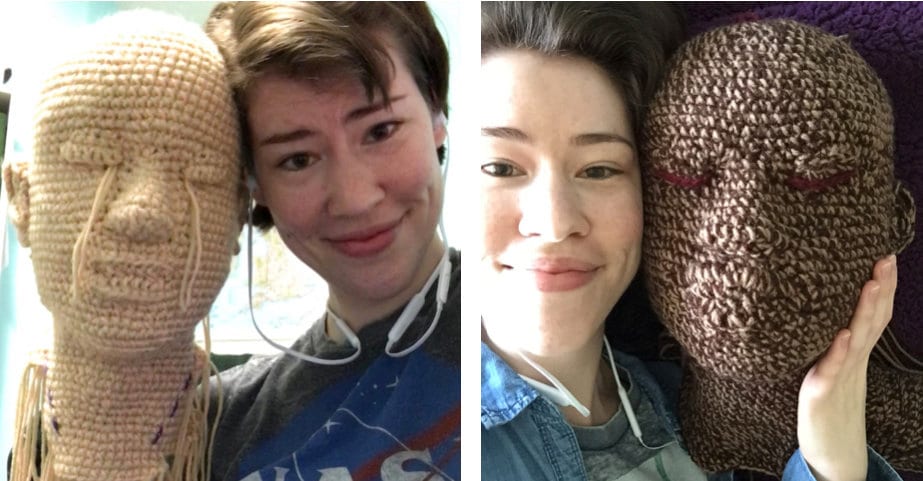 A few crispy work-in-progress selfies to give an idea of scale... just slightly larger than life sized (꒪⌓꒪") 
Three months later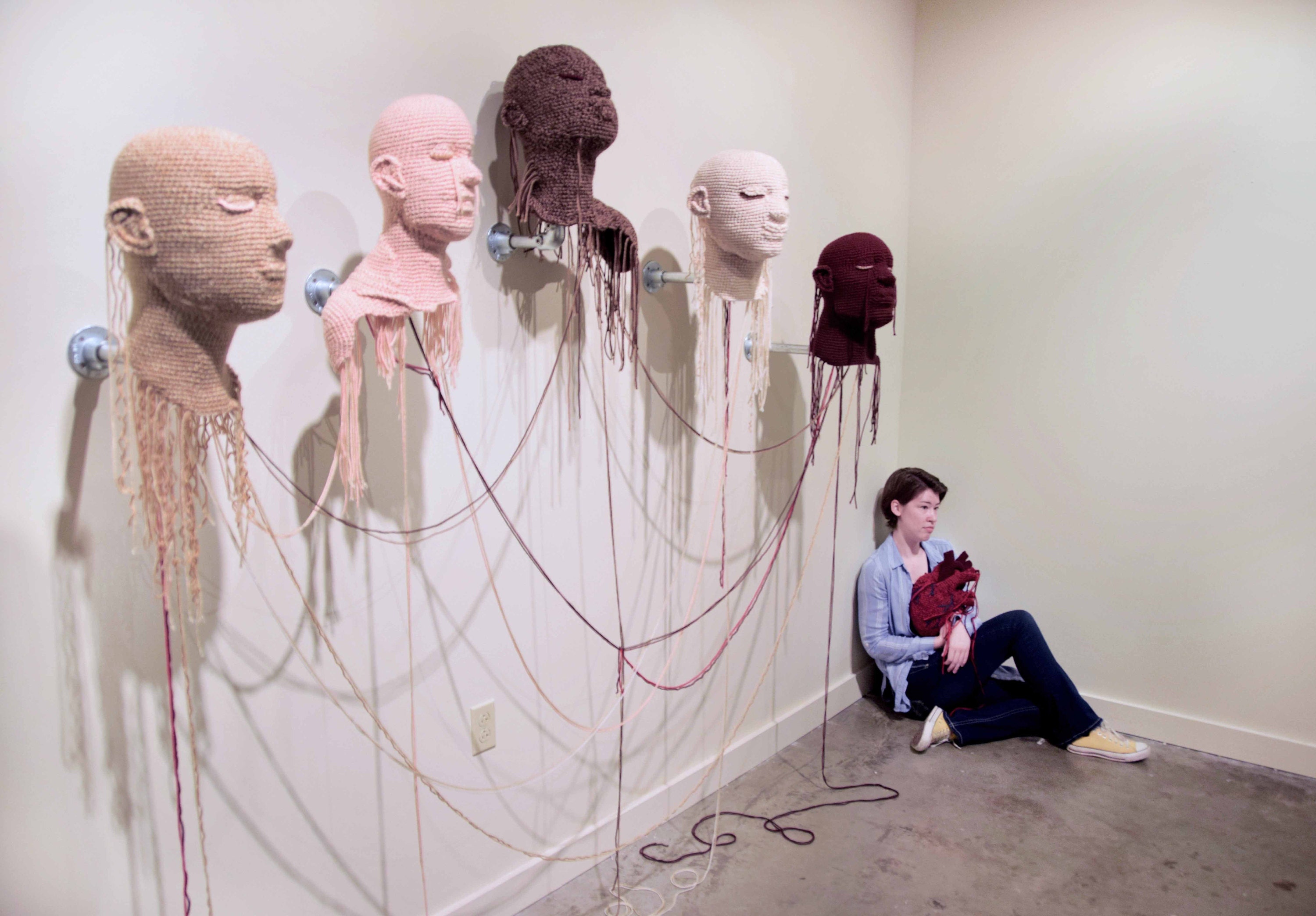 You know what they say, uh, six heads are better than one.
The show went up in the school gallery, the final critique from professors had a lot of good points (in retrospect) that felt too sharp there in the raw aftermath, and the opening reception went off without a hitch, except everyone's favorite part of my showcase was the giant human heart made late-minute, as an afterthought.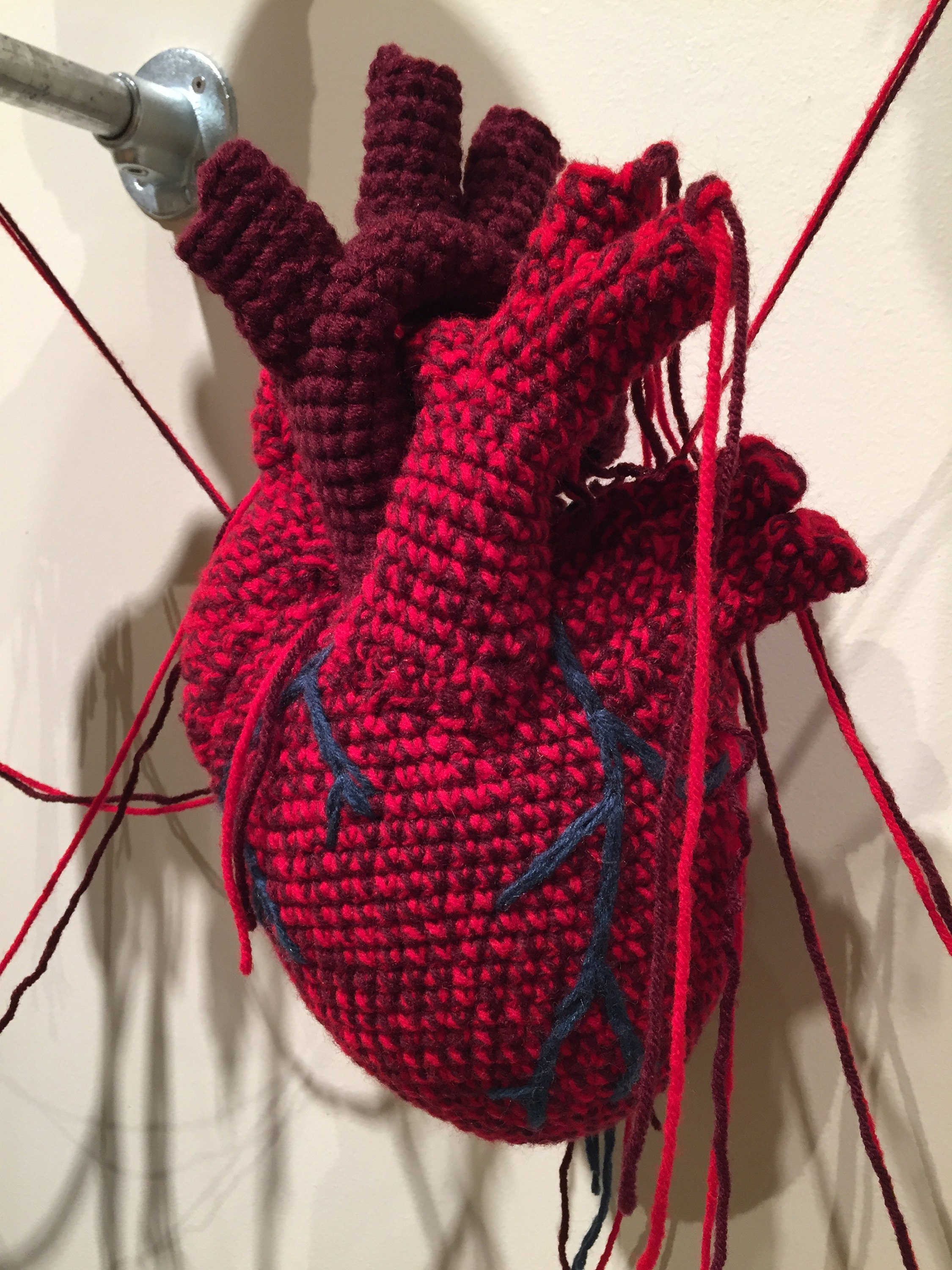 Whattya gonna do ¯\_(ツ)_/¯
But had I accomplished what I set out to do? Was Michelangelo proud of me? Were my crochet heads just inexcusably creepy, or were they – at least one of them – anatomically human-adjacent, if not correct (though perhaps still creepy)? Mayhaps.
There is room for futher exploration and refinement in this arena, and I have plans to revisit this in the near future... with a new twist, which I'm very excited to try! (☆▽☆) Until then, thanks for perusing my little scrapbook as I reminisce about this project a whole year later.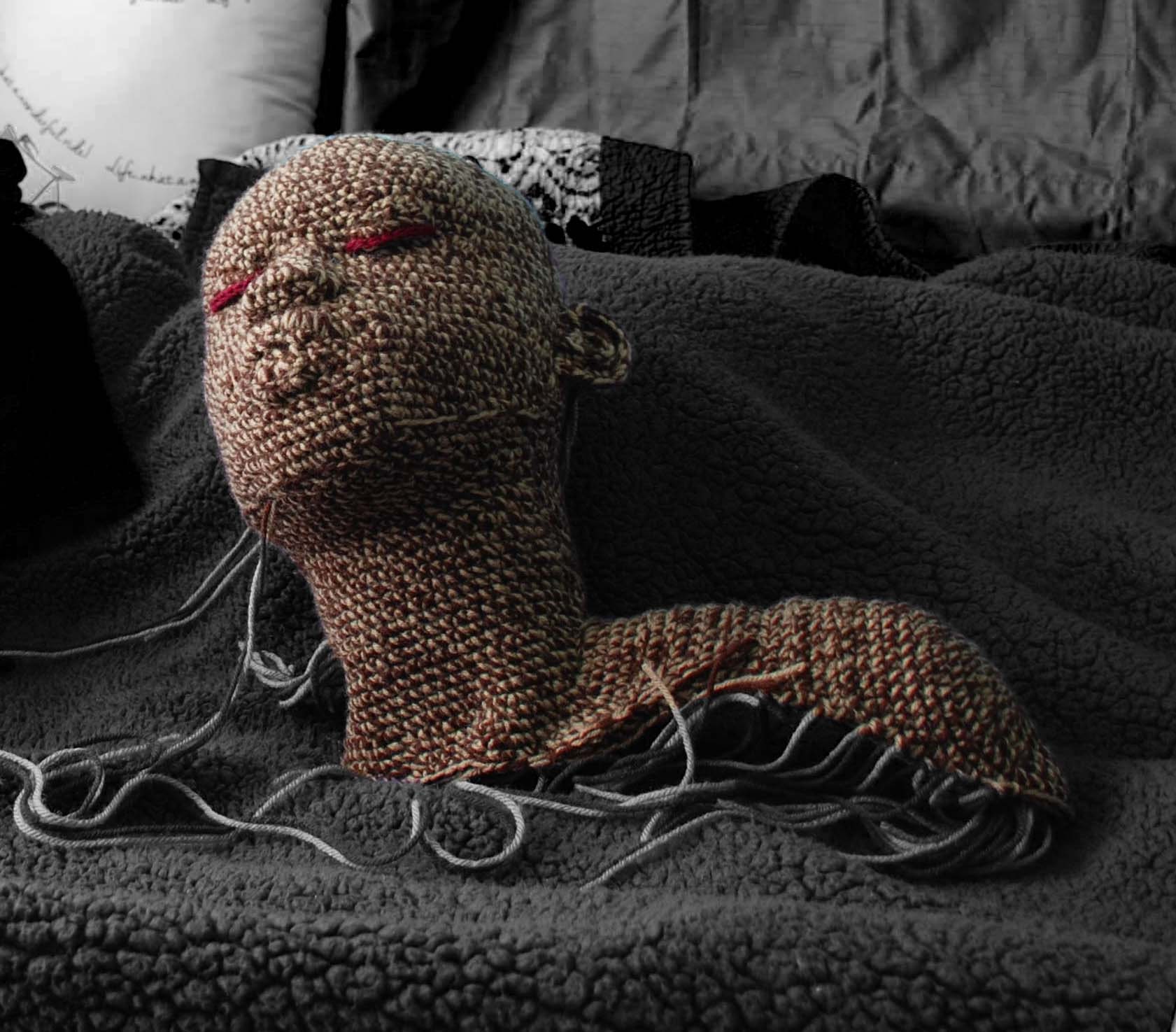 What's been your biggest crochet- or craft-related undertaking?